Book Clubs and Reading Groups
Into the Heart of the Feminine Book Club and Reading Group Package
Start your own book club or reading group with this 5-star book that liberates, empowers, and fosters love, creativity, and joy.
---
Get Started With A Special Discount Offer!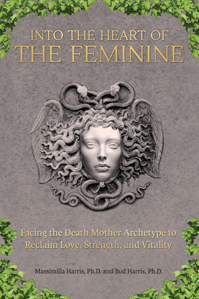 5 books for $69.95
Just $5 for shipping
Additional copies $14.95
(includes shipping!)
Includes a free download of our chapter-by-chapter study guide with discussion questions and instructions. DOWNLOAD STUDY GUIDE
*If your group is larger than 14 members, please email us at info@budharris.com.
---
Greetings!
We are glad to welcome you and your group members into the adventure of restoring and revitalizing the eternal feminine into our lives and culture. We believe that as you journey through this book and your discussions, you will discover how you can heal the feelings of loneliness, loss, and rejections that live below the surface in our world today.
This opportunity offers you the possibility of discovering how to renew the deep strength of the feminine within you – a strength that fosters the confidence, connectedness, and joy that so many of us long for. We also hope you find that this journey empowers your ability to transform grief and anger into passion and creativity. As your readings and discussions progress, we hope you come to recognize how the courage to journey into your own soul brings you the true experience of your own voice and the strength to change your fate.
One of the best ways to learn about things that can deepen and transform our lives is to invite others to join us in the search. This discussion group is such an invitation for you.
In the Study Guide, we give a quotation from each chapter for you to reflect upon and discuss with the group. With each quotation, we also give you questions to think about and explore with each other. Of course, these quotations and questions are primarily to get you started. We hope that you will go further and create your own questions and discussions.
Every chapter is a quietly powerful, life-changing experience. When we each awaken to the call of the feminine soul within us, we learn to treat ourselves and our lives as sacred. If we don't know how to treat ourselves as sacred, we cannot genuinely treat anyone else as sacred either. Reading and discussing this book encourages you to realize how sacred you are, how sacred your life is, and to explore how you can experience the world that way.
We appreciate your desire to be a seeker and we give you our warmest best wishes for your journey and your willingness to share it with fellow travelers.
– Massimilla and Bud Harris