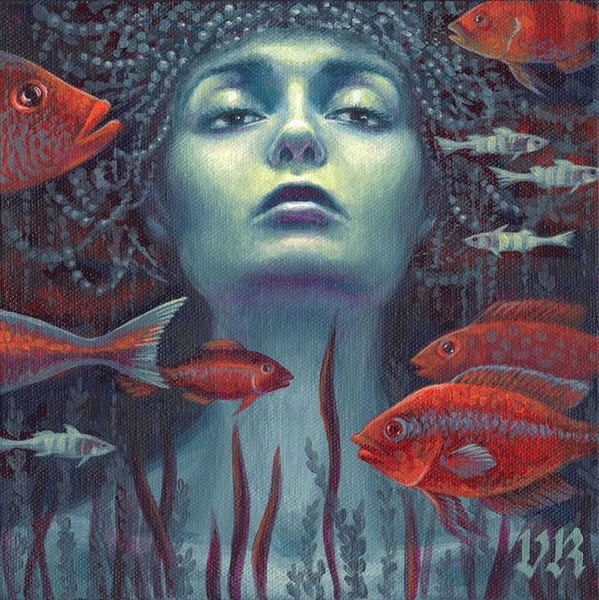 Aquatic II, Vasalisa Romanenko
Greetings, dear readers!
The following is a continuation of our blog series "Reflections from the Heart of the Feminine." If you're just joining us you may want to start here.
Quotation from Chapter 7 for Reflection and Discussion:
I have worked with woman after woman who was intelligent, capable, even professionally trained, and yet was still paralyzed when it came to pursuing her life with a sense of authenticity and security, grounded in her own ability. I am even more saddened to see how our ability to love and be loved, and to be whole people in relationships, has been frozen by the Death Mother's influence in our families and in our society.
Not only have I seen this in the people I work with, but I have experienced it myself. I have questioned my own ability to believe in myself, in my potentials, and in my own success, not for years, but for decades. And I have wondered if I would ever really know what love is and if I would ever really experience it.
Questions for Journaling and Group Discussion:
Have you ever experienced becoming "paralyzed in normalcy"?
How do you understand our statement that "…the Death Mother gives us a frightening picture of the outside world, but she also gives a terrifying countenance to our own inner world"?
Does it make sense to you that the "writhing snakes of rage" are the first emotions we need to face, and then once they are faced and transformed, they become the source of our strength and life?
---
To get a good introduction to the Death Mother archetype, watch Massimilla's lecture on the topic:
---
Book Excerpts and Resources
,
anger
,
anxiety
,
archetypal feminine
,
authenticity
,
Death Mother
,
healthy personality
,
Medusa
,
self-loving
,
shadow work
---
Comment Policy:
Please stay positive in your comments. If your comment is rude it will get deleted. If it is critical please make it constructive. If you are constantly negative or a general ass, troll or baiter you will get banned. The definition of terms is left solely up to us.
Leave a Reply