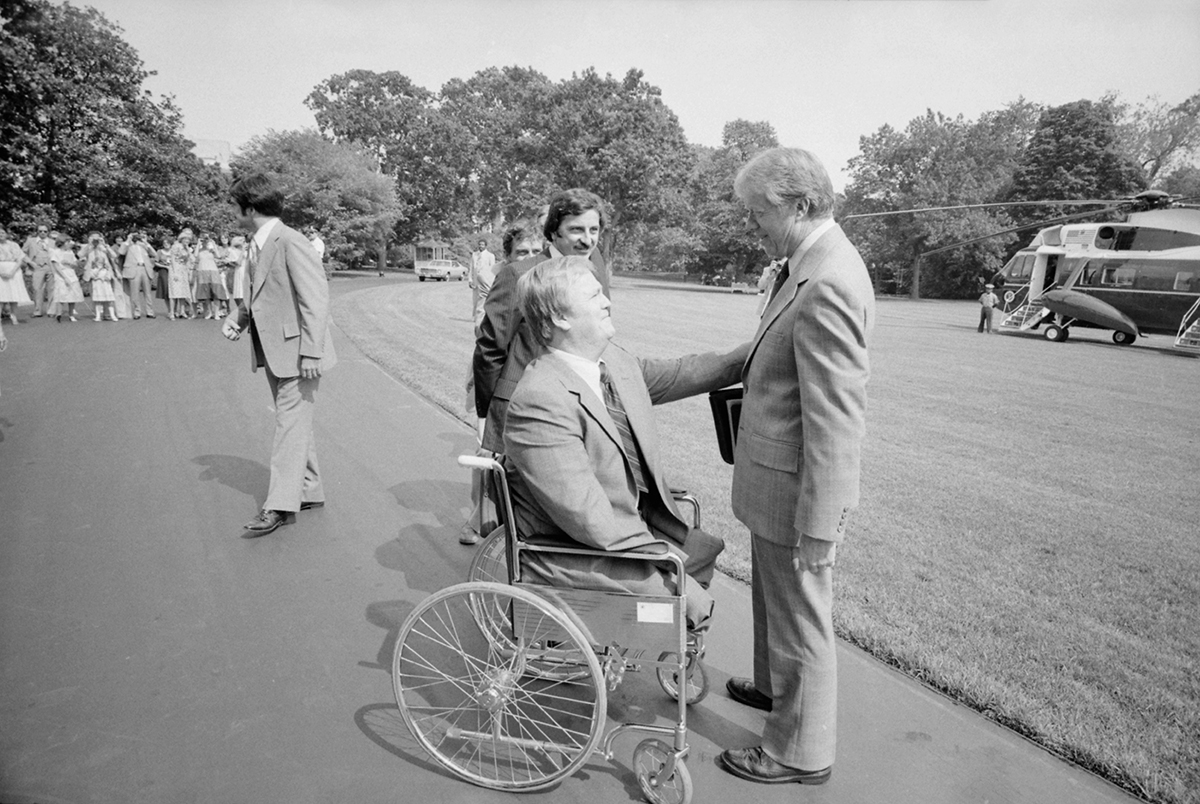 A hero of mine passed away early last November. He was the former Democratic senator from Georgia, Max Cleland. I want to share some poignant and meaningful memories with you along with the reflections that followed them.
I met Max decades ago at a book signing in Atlanta. Max's book Stronger at the Broken Places had just been published. This book was the story of Max's recovery after being wounded in Vietnam. A few days after Captain Max Cleland was awarded the Silver Star Medal for gallantry in action, a grenade dropped near his feet. It blew off both of his legs and one arm. The book was about his courageous journey into becoming stronger at his broken places, including his realization that he had sacrificed so much for a mistake. In his short military career, he was also awarded the Bronze Star with a "V" signifying acts of valor in combat, the Soldier's Medal, the National Defense Service Medal, the Vietnam Service Medal and the Vietnam Campaign Medal. Keep these honors in mind because they clearly define the man who was outrageously slandered later in his life in politics.
As Max recovered from his wounds, he entered politics and became a Georgia state senator. Then he became the administrator of the United States Veteran Administration, and later Secretary of State of Georgia. In 1996 he became a United States senator by putting his heart and soul into a tough campaign.
Then, in the dramatic Clinton presidency years my wife and I were invited by a close friend to meet and discuss our book, Like Gold Through Fire: Understanding the Transforming Power of Suffering, with the Adult Forum of the Foundry United Methodist Church in downtown D.C. It was the church of the President and well-known politicians. During the service we sat behind the First Lady Hilary Clinton and her daughter, separated by one row that had secret service agents in it. After the service our friend introduced us to the First Lady. As we turned away from talking with her there was Senator Max Cleland in his wheel chair, glowing with vitality and open to talking with us. That was the last time I saw him in person.
I remember that while he was a senator Esquire Magazine wrote an extensive article on what a day in his life was like. It was a hero's journey. In fact, I thought getting dressed in the morning was a hero's journey for Max.
In 2002 Max ran again in what became another tough race. As was his nature, he put his heart and soul into it. Then, at the last moment, his opponent ran TV ads featuring pictures of Osama Bin Laden and Saddam Hussein and insinuating Max was soft on terrorism. These ads savaged a true hero. Two other heroic veterans, Senators John McCain and Chuck Hegel, forced the ads to be pulled but the damage was done and the path American politics was taking was clear. My eyes became wet as the shock of his defeat hit me. I had a hard time believing the people I grew up with and lived with for so many years—citizens of the richest, strongest nation in history—could so easily be thrown into fear that they would react so shamefully.
Max went through a dark, broken-hearted period. I wonder at times myself how much courage life can demand of one person. He wrote another book about this journey, Heart of a Patriot: How I Found the Courage to Survive Vietnam, Walter Reed, and Karl Rove. Then he went on to continue serving his country, especially veterans, and all of us in a number of key government positions by presidential appointment. Max was a true hero for the way he encountered great suffering of body and soul and had his heart transformed by it. He was also a great hero because so much of his suffering came from his commitment to a life of service, yet he continued devoting his life to public service.
You likely recognize that the title of Max's first book came from that wonderful passage by Ernest Hemingway—in his book A Farewell to Arms—based on his own recovery from the wounds of war he received as a young man. The passage reads:
If people bring so much courage to this world the world has to kill them to break them, so of course it kills them. The world breaks everyone and afterward many are strong at the broken places. But those that will not break it kills. It kills the very good and the very gentle and the very brave impartially. If you are none of these you can be sure it will kill you too but there will be no special hurry.
When I reflect on this passage two thoughts occur to me. First, the world only killed Max for moments in his life, but his spirit still lives in those of us who remember him. And second, are we going to come out of this period in our history stronger at the broken places?
---
Articles by Drs. Bud and Massimilla Harris
,
America
,
being human
,
citizenship
,
life of meaning
---
Comment Policy:
Please stay positive in your comments. If your comment is rude it will get deleted. If it is critical please make it constructive. If you are constantly negative or a general ass, troll or baiter you will get banned. The definition of terms is left solely up to us.
Leave a Reply