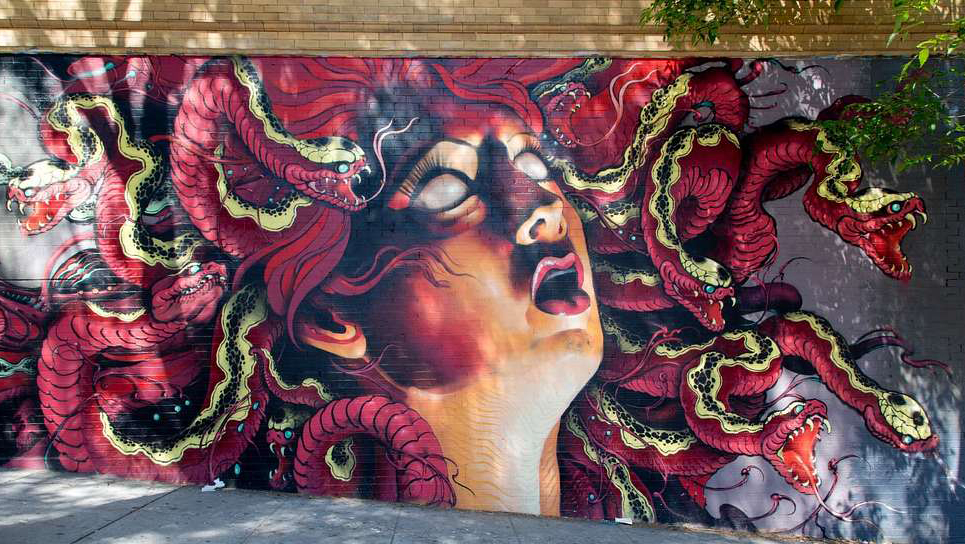 Medusa mural by Lango in San Francisco, California
Greetings, dear readers!
The following is a continuation of our blog series "Reflections from the Heart of the Feminine." If you're just joining us you may want to start here.
Quotation from Chapter 9 for Reflection and Discussion:
Women, over the centuries, have been unfairly victimized, misused, belittled, and considered to be inferior human beings. This blaming and belittling of women, and also of the feminine principle, still goes on in this century and in some countries is a common way of dealing with women. Unfortunately, this is our modern form of the plague. In a similar way, men scapegoat their own feeling selves and, all too often, make fun of other men who express feelings, thus scapegoating the feminine inside and outside of themselves. In fact, men are scapegoated by their own moods as well. Their negative and often critical anima, their inner Medusa, makes them feel that they are inadequate and that their ideas and accomplishments are insignificant. Men have to discover their own inner path for Perseus, in order to take control of their moods.
Questions for Journaling and Group Discussion:
Have you come to realize that the first act of self-love is actually the journey into knowing yourself?
What do you think of the seven effects of the Death Mother, as outlined in the book, beginning on p. 127? (For those of you without the book, these effects are a shadow or dark anima, paralysis, giving up, internalization of the Death Mother's poison, scapegoating, the feeling of scarcity, and rage.)
How do you answer the questions we ask on p. 134?:
How can I trust love?
Do I know how to love myself?
What do I project onto myself?
How much do I fear rejection?
How much do I feel alone?
---
To get a good introduction to the Death Mother archetype, watch Massimilla's lecture on the topic: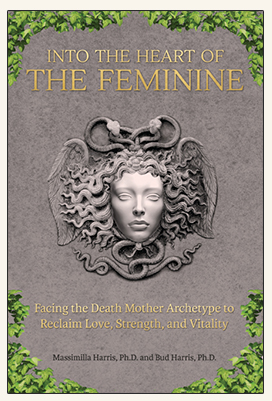 "In this compelling book, Jungian analysts Massimilla and Bud Harris explore the power of the Death Mother complex that 'drains our energy, saps our vitality, and drags us down.' Drawing upon personal experience, clinical practice, archetypal stories, and the myth of Medusa, the authors describe not only the paralyzing effects of the Death Mother complex, but the steps needed to transform it into healing and vitalizing energy. This engaging, moving work offers wisdom to both men and women who seek to liberate their deepest creative potential."
– Susan Olson, Jungian analyst and author of By Grief Transformed: Dreams and the Mourning Process
---
Book Excerpts and Resources
,
archetypal feminine
,
Death Mother
,
fear
,
Medusa
,
self-acceptance
,
self-judgement
,
self-loving
,
shadow work
---
Comment Policy:
Please stay positive in your comments. If your comment is rude it will get deleted. If it is critical please make it constructive. If you are constantly negative or a general ass, troll or baiter you will get banned. The definition of terms is left solely up to us.
Leave a Reply