A Jungian Guide Through the Paradoxes of Peace, Conflict and Love that Mark a Lifetime
Knowing Life's Questions and Living the Answers Means Accepting the Paradoxes of Peace, Love and Conflict that Mark Our Lifetimes. This book is about learning to hear and interpret the nudging and out-and-out messages of that inner blueprint, which Dr. Harris defines as the "pattern of creation longing to be fulfilled within each of us." The more faithful we are in working to discern this personal pattern of ours (the Jungians have named this work the individuation process), the less buffeted by fate, of life's Pattern-at-large, we sill be. That doesn't mean our awareness can bring immunity from the cataclysms and heartbreaks the Wheel of Fortune has in store for every one of us at some time or another.
The message in Knowing the Questions, Living the Answers is that the more conscious we become of the personal patterns, the better able to we will be to live the answers to life's questions rather than just suffering through them and learning nothing from them or about them. Accessible and satisfying. We immediately trust Dr. Harris as he reflects on life.
– from the forward by Gail Godwin, author
Resources
Below you'll find the Introduction from Knowing the Questions, Living the Answers, with excerpts from further chapters coming every two weeks. Be sure to follow along on Bud's Facebook page to find more resources and follow-up questions to help you integrate the material more deeply into your own life.
Knowing the Questions, Living the Answers: Foreword
Excerpt from Chapter 1: The Spirit of Individuation
Excerpt from Chapter 2: The Search for Identity
Excerpt from Chapter 3: The Passage Into Adulthood
Excerpt from Chapter 4: Encountering Life
Excerpt from Chapter 5: Midlife—Shifting Shadows
Excerpt from Chapter 6: Passing Midlife – Critical Mass
Excerpt from Chapter 7: Intrinsic Essence
Excerpt from Chapter 8: Journey to the Center
Excerpt from Chapter 9: Journey to the East

Quotes and Images to Share: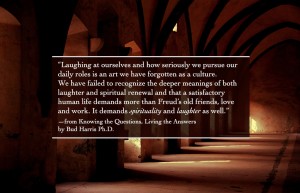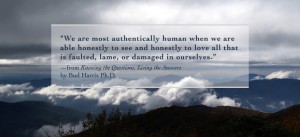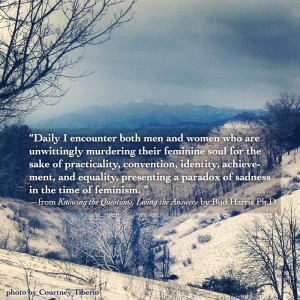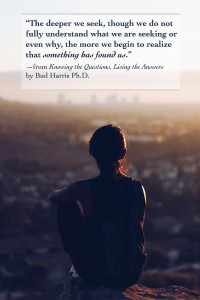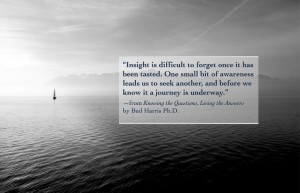 ---
Book Excerpts and Resources
---